What is this all about?
Trying to reenact the Glowing Wurst - First experiments in making sausages glow using diverse approaches of synthetic biology, field trips, literature research and rubber bands... and sausages. Inspired by Heller's finding from 1852, investigation of a finding of glowing sausages (Augsburger, 4 inch long, 1.5 inch wide) by the German police, as mentioned in the chapter "B. Ueber das Leuchten von Würsten", Leuchtende Pflanzen, 2nd edition, Dr. Hans Molisch, 1912.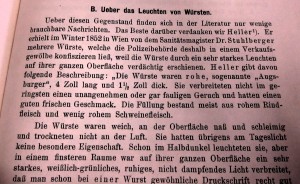 Legal status
According to the cantonal law of Schaffhausen, "Verordnung über den Naturschutz vom 6. März 1979" paragraph § 12 b), this is ILLEGAL!
§ 12
I. Allgemeines Verbot
1 Es ist verboten, die im Anhang I aufgeführten freilebenden Tiere mutwillig oder zum Zwecke der Verfütterung oder des Erwerbs:
a) zu töten oder zum Zwecke der Aneignung zu fangen sowie ihre Eier, Larven, Puppen, Nester oder Brutstätten zu beschädigen, zu zerstören oder wegzunehmen;
b) lebend oder tot, einschliesslich der Eier, Larven, Puppen und Nester mitzuführen, zu versenden, feilzuhalten, auszuführen, andern zu überlassen, zu erwerben, in Gewahrsam zu nehmen oder bei solchen Handlungen mitzuwirken.
… but
§ 10 13) 2. Sammeln zu wissenschaftlichen sowie zu Lehr- und Heilzwecken Das Sammeln und Ausgraben geschützter Pflanzen und das Fangen geschützter Tiere zu Lehr- und Heilzwecken sowie für nachweisbar ernsthafte wissenschaftliche Verwendung kann ausnahmsweise in begrenzter Zahl und beschränkt für ein bestimmtes Gebiet und eine bestimmte Zeit vom Planungs- und Naturschutzamt bewilligt werden.